YELLOWSTONE COFFEE
Start your day the Dutton way with our ranch-inspired coffee blends. Each roast is crafted with 100% Arabica coffee beans for a high-quality, full-bodied taste that will awaken your senses. Whether you prefer the smooth and balanced notes of Bunkhouse Medium Roast, the bold and robust profile of Ranch House Dark Roast, or the sweet and indulgent taste of Caramel Oatmeal Light Roast, we have a blend for every coffee-loving cowboy and cowgirl.
100% Arabica Coffee Beans
Bold, Ranch-Inspired Flavors
12 ct. Single Serve Pods & 12 oz. Bags of Ground Coffee
YELLOWSTONE SEASONINGS AND RUBS
Yellowstone Seasonings and Rubs are specially crafted, ranch-inspired blends of herbs and spices to add some cowboy flare to your grilling, barbeque, and home cooking. Each blend delivers rich, bold flavors that perfectly complement your favorite hearty meals and comfort foods. Cook with confidence and grit, the Gator way with Yellowstone Seasonings and Rubs.
No Artificial Flavors
Gluten Free
Packed in the USA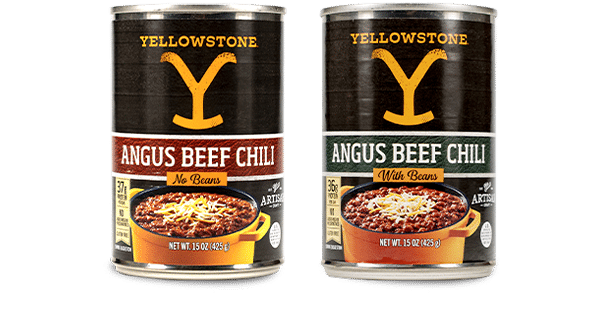 YELLOWSTONE CHILI
Yellowstone Angus Beef Chili is a hearty, homestyle recipe that brings the ultimate cowboy comfort food to your table. Made with tender Angus beef, a blend of chili and bell peppers, and free from preservatives, this ranch-style chili is protein-packed and available with or without beans.
Enjoy the convenience of Yellowstone Angus Beef Chili, a wholesome, high-protein, low-fat meal that will satisfy any occasion.
Homestyle Recipe
Made with Angus Beef
No Added MSG or Artificial Ingredients
Gluten Free
YELLOWSTONE BAKED BEANS
Yellowstone Baked Beans are made with high-quality ingredients and packed with extra meaty goodness in a smoky sauce. These baked bean varieties are a hearty helping of tender beans and a generous serving of meat, packed with seven to eight grams of protein per serving for a satisfying meal or an elevated n side dish. Savor the taste of Yellowstone Baked Beans, where tradition meets bold flavor.
Gluten Free
7-8 Grams of Protein Per Serving
No Added MSG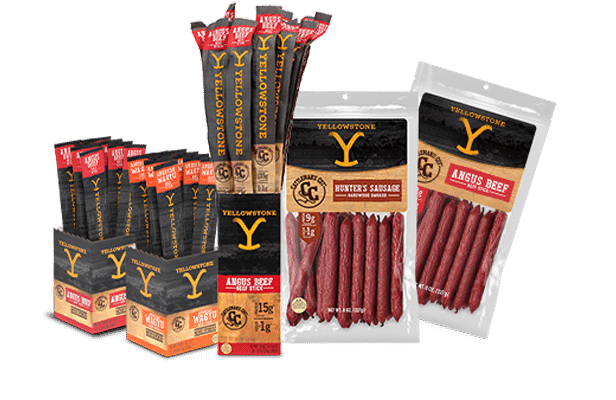 YELLOWSTONE MEAT SNACKS
Immerse yourself in the bold flavors of the American West with Yellowstone Meat Snacks, made with quality meats that are authentically hardwood smoked and seasoned to perfection. Packed with protein and high-quality ingredients, Yellowstone Meat Snacks are the ultimate, on-the-go cowboy treat. Whether you're on the trail, putting in a hard day's work, or simply craving a hearty snack, our meat snacks will help keep you fueled for any adventure. Available in a variety of flavors and sizes.
Proudly Crafted in the USA
Naturally Wood Smoked Meats
<1g Sugar Per Serving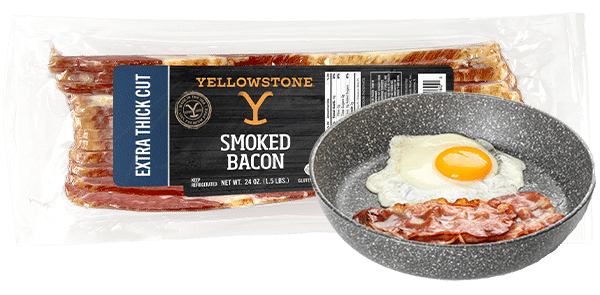 YELLOWSTONE BACON
Bring the rugged charm of the Dutton Ranch straight to your plate with Yellowstone Extra Thick Cut Smoked Bacon. Whether sizzling in the cast iron skillet or lending its bold, smoky flavors to your favorite dishes, our premium pork bacon ensures a satisfying, hearty crunch.
Made in the U.S.A.
100% Premium Pork
Gluten Free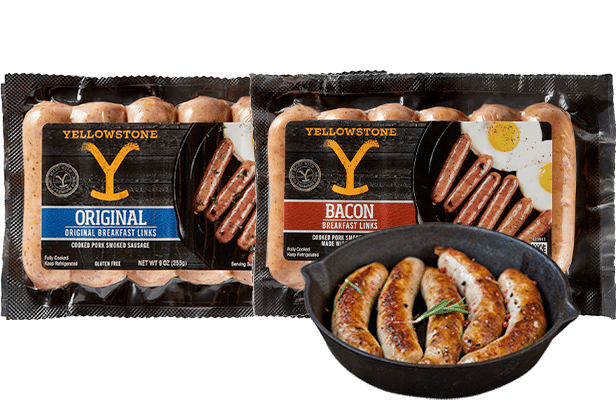 YELLOWSTONE BREAKFAST LINKS
Let the bold flavors and rustic charm of Yellowstone Breakfast Links set the tone for a morning round-up like no other. Crafted with smoked pork sausage and perfectly seasoned with a blend of spices, these fully cooked sausage links boast a hearty five grams of protein per serving to keep you fueled for the day ahead. Whether paired with egg scrambles, sizzling breakfast skillets, or a stack of golden buttermilk pancakes, Yellowstone Breakfast Links are a classic part of any cowboy breakfast.
Fully Cooked
5 Grams of Protein Per Serving
No Artificial Colors
No MSG Added
YELLOWSTONE SMOKED MEATS
Yellowstone Smoked Meats will transport your kitchen and your guests to the Dutton Ranch. These fully cooked, protein-packed smoked meats are made from handcrafted small batch recipes and include a hickory barbeque sauce packet to dress to your liking. Choose between Yellowstone Shredded Brisket, Yellowstone Pulled Pork, and Yellowstone Brisket Burnt Ends for your next get-together around the table.
YELLOWSTONE CHEESY BACON MAC
Yellowstone Cheesy Bacon Mac is a flavor-packed adventure that takes comfort food to a whole new level. Dive into the rich flavors of creamy cheddar cheese and crispy bacon, seasoned to perfection. This elevated twist on a classic American dish will transform supper time into memorable moments around the kitchen table.